Shortlist – 18/3/16
Small recruitment firms need middle managers to grow
Smaller recruitment businesses are struggling to grow due to their unwillingness to build secondary management structures, says industry advisor Greg Savage, who also shares his tips for hiring better consultants.
Speaking at an RCSA Acumen Series event on "powering profit" last week, Savage noted that in the recruitment industry there is a "crazy, ironic inability… to hire good people, and to train then and to retain them".
"Actually building management structures and nurturing a secondary team is beyond most owners of recruitment companies," he said.
"Many recruitment companies keep on hitting a ceiling. I see them going to 16, 17, 18 people and then they go back to 12… Or they go to 16, 17, 18 people and then go back to eight. They just can never get the traction because of this inability to do what we actually do for our clients."
Savage said recruitment business owners with upwards of 10 staff should develop a second tier of management to sustain company growth.
"You cannot build a business without leverage through secondary management. Certainly when you get to the point of selling your business, you'll never sell it when you've got the next generation coming through. No-one will buy a business that's so dependent on you," he said.
Some 80% of recruitment companies have 10 staff or fewer and will never get beyond that size; a significant reason for this is that these businesses are founded by recruiters who have recruiting skills but poor expertise in building a business, Savage said.
"As I think back and look at all the companies I've worked with in my own experience, a lot of people are really reluctant to change – that's built into the DNA of human beings, we know – but one of the biggest reasons that I see is that owners are actually in the wrong roles in their own business," he said.
He gave an example of a Sydney-based recruiter he advised who managed to build a business up to 10 people, then reached a ceiling that prevented him from growing it further.
Savage's advice was: "you are not the right person to manage".
The recruiter conceded this and "put himself to one side", hired a resourcer, started billing up to $800–900k, and brought in a professional manager to grow the team and "it's working exceptionally well", he said.
"One of the things that holds companies back is owners who think they've got to run everything. And you don't need to do that. You need to see where you can bring the most value.
"So the smart people that have built their own recruitment companies look at their own skillsets and put themselves in the role that's best for the organisation."
Hire better recruiters
Savage also shared his tips for hiring better consultants, saying managers should:
Always be hiring – "Start your recruiting now. You should always be recruiting, even if you're not hiring."You should have 100 cups of coffee a year with potential people to work for your business… That's only two a week. Can you not give two 45-minute blocks of time to invest in your future hires? You should be phoning people up that you've heard are good, and get your consultants to refer people," he said.

In times of need, this approach will give managers a list of pre-qualified people they can possibly hire, he said.

Define key hiring personas – Savage said managers must end their fixation with hiring consultants based on a rigid set of criteria, be prepared to redefine the key competencies of the roles they need to fill in their business, and try people with transferrable skills.Designing position descriptions that call for someone with four years accounting recruitment experience, for example, will not necessarily yield results in the current market, he said.

Managers also need to take a longer-term view on growing their talent networks because they will be training staff more than they will be poaching them, said Savage.

Exercise due diligence – Although he's been running recruitment companies large and small for 30 years, and has had hundreds of managers report to him, Savage rarely receives calls for reference checks, he said."It amazes me how few people do due diligence when they hire… It's the most powerful tool. And don't just take one person's word for it – don't be swayed by one person – but it's part of the jigsaw of assessing. I'm amazed people don't do the due diligence."
Trial potential recruits – "If you can, bring someone to spend a day in your company before you hire them. It's not always possible, I understand. But… it is tremendously revealing. You'll know after the first day whether they fit in. Have you ever hired somebody, and they've started, and by lunchtime and you go, 'oh my… what the f-ck have I done?'."You can train people on how to do an interview, you can train people on how to do a client visit. You can't train someone on resilience; you can't train someone to be ethical when they're not. You can't train somebody to have empathy. You cannot do it! So if those are skills and values that you value, then hire them."
Shortlist – 14/3/16
Cost-per-seat knowledge crucial for recruitment agencies: Savage
Recruitment executives who fail to calculate how much each consultant costs the business before they earn any money will never have an accurate picture of its expenses, says industry advisor Greg Savage.
"You need to understand the cost of each income producer – by that I mean consultant, or whatever you call them – in your business before you pay their salary," Savage told an RCSA Acumen Series event on "powering profit" last week.
Calculating this 'cost of seat' begins by looking at the P&L, which must be annual and for the whole company (or for a large division, where applicable), and recording the total expense figure.
From that number, managers must subtract consultants' salaries, but not those of managers and administration staff, "because they only exist to support the recruiters", then divide that result by the total number of consultants in the team. The final amount is "the cost of having somebody sit there without their salary", Savage said.
The cost of seat is always in the range of $80–100k for most recruitment businesses, "unless you're a tiny company operating around a kitchen table", he said.
"That should focus the mind, because then it starts to look like this: I've picked a base salary of $100k – it might be high, it might be low – but if you're paying a consultant $100k, you know you're really paying them $115k as you've got your on-costs and superannuation, workers' compensation, payroll tax and what have you. And then add your cost of seat, which is $100k. So in this case, that consultant is costing you $215k before they have earned you one single dollar of contribution."
Don't be seduced by revenue
Monitoring revenue alone can be a feel-good exercise for recruitment managers and owners, but profit is crucial and cash is even more important than profit, Savage warned.
"Don't be seduced by revenue! Don't even be seduced by your P&L – that's still a fairy tale. You can't pay someone's wages with a profit on a P&L. You pay wages with cash in the bank. Cash is king!"
Savage referred to one of his clients, Precision Sourcing, as an example of the revenue perception problem, saying the company boasted about $3–4 million annual revenue growth, while seeing its profits halve two years in a row.
"The problem was that they had been taking government work on a government IT tender on 8% margins and had been allowing 60-day payment terms, except the clients were actually paying at 90 days. An 8% margin and 90-day terms is a slippery slope to recruiting hell, and that's where they were going. They had an otherwise very sound business – they had just been seduced by revenue!"
Savage recommended the company fire its government clients, a suggestion the company's leaders initially baulked at.
But he warned them that if the company didn't drop these clients, it would be facing liquidation within 12 months under such onerous contracts.
Precision Sourcing went back to its client and asked for better terms, but the client was unmoved. The recruitment company ended its contracts, and in the next year revenue dropped by $3–4 million but its profit tripled, and has continued to do so, said Savage.
"And it was painful. You know what, the little irony that I love? They're now reporting to me that some of those clients are coming back to them and saying 'yeah, okay. We'll do it at full margin', because they need the candidates."
Advice on boosting cash flow
Savage said he encourages recruitment agency managers to treat their small companies as if they are large companies when managing their financials.
"Your next step is to fire those biker clients. What a biker client means is the unpleasant, antisocial clients, the clients that treat us with disrespect. Fire them! Put your efforts into clients that can treat you, if not as partners, then at least as a preferred supplier," he said.
"Focus on your debtor days. Get that down – don't let it creep up. As you get bigger, don't let them creep up. Don't do deals with long payment terms! You can grow yourself to liquidation. It's not margins you put in the bank – it's dollars."
Shortlist – 28/7/15
How new recruitment "monoliths" will affect SMEs
Consolidation among Australia's large recruitment companies is unlikely to harm SMEs, but these new recruiting "monoliths" will still leave a mark on the local market, according to industry consultants.
Recruitment veteran Greg Savage told Shortlist M&A activity such as the Programmed/SKILLED merger will only affect small recruitment companies that are "totally undifferentiated".
"The recruiters that compete only on price will get hurt by this. If you compete on specialisation, quality, knowledge, depth, contacts, etc, then this [won't] affect you," he said.
"If you're a deep specialist recruiter like, say you're a recruiter in digital marketing, and you place UX designers and SEO experts, it will make no difference to you that these big boys are getting bigger. None whatsoever. In fact, it will strengthen your case because it allows you to say, 'we are deep in our knowledge and our ability to access candidates'."
High-volume recruiters, however, are likely to see increased pricing pressure, Savage said.
"The consolidation of SKILLED and Programmed would just give them more clout, more scale, allowing them to pass on savings to their clients, which means they'll be able to get cheaper. That is a problem for other big players," he said.
Similarly, Chandler Macleod and Peoplebank will reduce their respective overhead expenses now that they share a parent company, Savage said.
"They may not combine the brands but they will combine the back office. They'll get great cost savings and they'll pass that on to clients," he said.
The recent string of mergers is not unprecedented in the recruitment industry, said Savage, using the example of the 1996 Ecco/Adia merger that created Adecco.
"We've seen this come in waves. I think it might disrupt the pecking order at the upper end of the size market but it does not affect the vast majority of the industry because they are small and niche," he said.
Shortlist – 5/6/15
Greg Savage joins real estate recruiter's board
Experienced industry executive Greg Savage has joined the board of real estate recruitment specialist Buckmaster Hawkey.
Buckmaster Hawkey director Mark Appleby said his main motivations for bringing Savage on board are to drive growth and increase the company's eSourcing capability.
"The biggest factor that drove me towards pursuing Greg was a road show seminar that he did in Melbourne in February… talking about the future of recruitment agencies and basically the difference between struggling and surviving, and thriving," he said.
Savage told Shortlist that along with growing the company's social media presence, he also hopes to help increase its temp business.
"They've got a strong temporary business. They've done quite well, but I think they've done that just through effort without much strategy behind it and I think that can be really maximised," he said.
Shortlist – 1/12/14
360-degree recruiters going the way of the dinosaur: Savage
Recruitment companies looking to capitalise on the improving economy should relegate the 360-degree recruiter model to the past, says industry advisor Greg Savage.
Recruiters that believe the economic recovery will, of its own accord, lead to an improvement in their bottom line are sorely mistaken, Savage told Shortlist.
"In the UK, the economy has gone from recession to boom. There's massive shortages of staff; there's lots of vacancies – it's busy. But recruitment companies are not making more money. Some are, but a lot are still going bust," he said.
"We've got to change our attitude. By that I mean, don't think that all the old tactics that worked in the old days are going to work. [Recruiters have] got to change that. They've got to develop a very sophisticated candidate strategy. They've got to invest much more in marketing and much less in old-school sales."
Recruitment companies also need to change the way they divide work among their employees, said Savage.
"I don't think a 360 model works anymore. We need people who are skilled at esourcing. We need people who are skilled networkers. We need job fillers," he said.
Read the rest of this article here
Shortlist – 30/9/14
Six questions to ask before growing your recruitment business
Recruitment companies targeting growth must expand for the right reasons: profit and sustainability – not ego, says industry advisor Greg Savage, who shares his tips for successful expansion.
Most recruitment companies in Australia (80%) have fewer than 10 staff because it's difficult to grow a business past that point, Savage told Shortlist.
"As the economy's improved and people see opportunities for growth, it is a period of danger for boutiques and for others," he said.
"While those opportunities do need to be grasped, there are a lot of risks associated with growth – significant risks – particularly for companies that have very shallow financial resources, management resources, and management experience, because it's much more complex to manage a bigger business."
RIB Report director Nigel Harse has similarly warned recruiters that the more their companies grow, the less efficient they become, as increased size comes with greater opportunities for waste and inefficiency.
Savage said many business owners also grow for the wrong reasons, thinking "hey, it's a better time. Let's get bigger", but expansion isn't just about bolting on extra revenue.
Read the rest of this article here
Elite Recruitment Network – 11/9/14
Greg Savage Masterclasses – An Overview
Our two masterclasses hosted by Greg Savage were a great success with the room full of eager recruiters willing to learn and challenge their thinking.
Greg's morning session 'The Modern Recruiter: Evolved, Retooled and Rebooted' was for recruiters to understand the changing world of recruitment and how the recruiter of today needs to be much different than a recruiter from five years ago.
Greg's lessons and examples rang true with many recruiters in the room, the landscape has drastically changed and we need to make sure we evolve to keep up with it.
Read the rest of this article here
Shortlist – 22/4/14
Recruitment Juice making inroads in Australian market
Online video learning platform Recruitment Juice is making a big push into the Australian market, following the appointment of a local sales director last month.
Recruitment Juice founder Matt Trott launched the platform here a few years ago, but it wasn't until last year, when veteran industry executive Greg Savage bought into the local business, that the UK-headquartered company began ramping up locally.
Recruitment Juice recently appointed its first A&NZ sales director, Kate Flowerdew, who joined the company following an 18-month stint in the business coaching industry, prior to which she spent more than five years with finance recruitment company Moir Group.
Part of Flowerdew's focus in her new role will be expanding the company's presence in the Asia-Pacific region, she told Shortlist.
"[My role] will definitely be to get across the market and get Recruitment Juice out there. We've also recently launched Sales Juice so the platform is growing and we really want to add more into it," she said.
Shortlist – 15/4/14
This week we hear from industry commentator Greg Savage, who has spent 35 years in the recruitment industry, including as the head of three businesses: Recruitment Solutions, Aquent, and Firebrand. Greg now sits on the boards of 11 different companies to share his expertise.
What attracted you to recruitment
"Prior to starting in the industry, I didn't even know recruitment existed. I don't think I was attracted to recruitment, rather I think recruitment was attracted to me. I was only 21 and looking for a job. I ended up going to an executive search company and they said, 'None of our clients will be interested in you – you've got no experience, you've got no skills – but you seem like a likely lad, so come and be a recruiter'. It's been the only industry I've been in for 35 years.
"I started my own business in 1987 called Recruitment Solutions with two colleagues, which we built up over 10 years to 250 people and listed it on the stock exchange. I took a break for a few years and then became the CEO of Aquent and that involved running their business outside of North America. That grew from five offices to 35 in 17 countries. Three years ago, we had the opportunity to do a management buyout – so we bought 10 of those offices and rebranded them to Firebrand. I sold that business about a year ago."
Read the rest of this article here
The Global Recruiter – March 2014
Technology is changing our industry, on all fronts. CRM, ATS, matching, social, mobile – to name but a few. And of course, we are seeing the arrival of a myriad of online recruiting offerings, each claiming to be the beginning of the end for traditional recruitment. But let's get real: Candidates are not an online commodity. Some people would have you believe they are. Linkedin for one. Freelancer.com and their ilk too.
Oh yes, you can identify talent via digital. But actually recruiting someone you have found is a whole different matter. It's a seduction. And that is where the magic happens. Technology will never replace recruitment. It will drastically change the talent identification and sourcing function, the screening and even the interviewing function. Technology changes the mode of service delivery for third party recruiters, that is for sure.
Read the rest of this article here
Shortlist – 14/10/13
Recruitment Juice appoints Greg Savage to local consulting and content role
Recruitment speaker and former Firebrand boss Greg Savage has bought a minority stake in online video learning company Recruitment Juice, and will become the company's non-executive director in Asia-Pacific as it spearheads an expansion campaign in this region.
Savage told Shortlist his role is not full-time or operationally focused; rather he will contribute content for Recruitment Juice's training recruitment videos, promote the business in Australia and New Zealand, and provide some strategic advice.
Recruitment Juice CEO Matt Trott says the UK-based company started selling training DVDs in 2007, moved to an online platform in 2011, and has doubled its revenue in the past six months.
Asia-Pacific currently delivers about 25% of sales, he says, and the aim is to increase this proportion to 50%.
Trott says one of the chief difficulties in training recruiters is keeping them engaged, which is why Recruitment Juice uses comedy to make its videos entertaining. (The videos feature actors in a fictional agency.)
Recruitment Juice has thousands of subscribers globally, he told Shortlist, and has signed up more than 100 in Australia since it switched to the online format.
Savage says the quality of the existing library of 800 videos is very high, but by "Australianising" some of the content the company hopes to increase its uptake here – and it is talking to other local industry trainers about taking part.
Shortlist – 2/8/13
Greg Savage has taken on another advisory role, this time with executive recruitment firm Mondo Search Group.
This is the third advisory role for Savage this year, following his appointment to the boards of NZ technology recruitment company Potentia in April, and resources and infrastructure specialist Stellar Recruitment in March.
HR Monthly – June 2013
In a revealing interview at the end of last year, Andrew Bassat, chief executive of online job site SEEK, voiced his fears about which way the wind was blowing in the recruitment industry. LinkedIn, the fastest growing social media platform for business professionals, was bypassing traditional recruiters he said, by allowing corporations to go directly to prospective employees. Yet it was only a mere 15 years ago that SEEK was the new kid on the block and newspapers were looking on nervously as their job advertising began to haemorrhage to online. Now it appears that social networking is the new threat for traditional recruiters.
That LinkedIn has had a seismic effect on the recruitment industry is in little doubt. Greg Savage, author of recruitment and staffing blog, The Savage Truth, says "for many years, the recruitment industry sold their services on the fact that they had a database of wonderful candidates. But sites like LinkedIn now offer a bigger database." And one that's growing. When LinkedIn launched in Australia in early 2010 the number of users was below one million. Today there are four million. In the US it's reported that across the globe two new people join LinkedIn every second.
Read the rest of this article here
ShortList – 20/5/13
How to adapt to the new normal: Savage

Recruiters will have to completely overhaul the way they do business – not just "tweak" their systems – if they are to adapt to a market that may never return to the way it was, says veteran recruitment boss Greg Savage.
Speaking at the NPA Global Networking Meeting in Sydney last week, Savage said the majority of recruitment companies were either doing nothing to evolve, or were making minor changes to their business model to survive the current market.
Savage, who has previously run Firebrand, Aquent and Recruitment Solutions, said most of the recruitment company managers and owners he had spoken to recently thought that if they could do things a little better, or a little faster, they would be able to stay profitable until business conditions improved.
"Well, maybe [the market] is never going to pick up. Maybe this is the way it is, and so what we've got to do is rethink things… We have to work out a way to make money in the environment that's available to us now."
Savage highlighted three areas where recruitment companies should be making changes:
The future of recruitment is candidates, not clients
There would always be demand, he said, for agencies that could deliver hard-to-find candidates, because this targeted employers with pain points – critical gaps they couldn't fill themselves – and these were the only employers that would continue to use recruitment agencies in future.
"Everything that's scary about the future of recruitment – everything you should be having sleepless nights about – is about candidates, not clients… Don't worry about clients, because if you've got the candidates the clients will come."
Forget the big elephants, chase the SMEs
SME employers often fell into the "in pain" category because they lacked the resources or knowledge to recruit for hard-to-fill roles, Savage said.
"There's still [recruiters] out there chasing [and] trying to poach the big elephants. Unless you have a business model that the big elephant wants, you are just hitting your head against a brick wall."
Embrace new technology, and question the old
Recruitment companies weren't putting enough thought or money into getting the right social media tools in place for their business, Savage said.
While social media wasn't a magic bullet that would solve the industry's problems, used properly and in concert with traditional recruiting skills, it was very effective at engaging with the right candidates.
By building relationships with candidates through social media, he added, recruiters were reducing their reliance on "increasingly ineffective" sourcing channels like job boards.
"I would re-evaluate all the traditional methods of acquiring talent," said Savage.
APSO Magazine March 2013 – Cover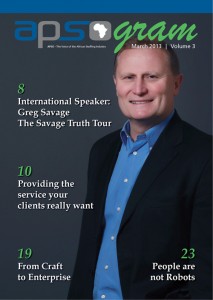 ShortList – 2/4/13
Another new gig for Greg Savage
Greg Savage has taken on another board advisory role, this time with NZ technology recruitment agency, Potentia.
Founded by Hudson alumni Josh Comrie in 2004, the company has offices in Auckland and Wellington.
Savage said Potentia had strong growth ambitions, and he would serve as a Non-Executive Director on its Advisory Board, contributing to strategy, social media and expansion plans.
"I will spend a lot of time over in NZ as a result, and therefore I'll be looking for other [advisory] clients in the area."
Savage said he had also recently accepted an invitation from South Africa's peak recruitment industry body, APSO, to do a speaking tour in Johannesburg, Cape Town and Durban in May.
ShortList – 12/3/13
Greg Savage takes on advisory role at Stellar Recruitment
Greg Savage has joined the Advisory Board of resources and infrastructure specialist Stellar Recruitment.
Stellar has offices in Brisbane, Mackay, Perth, and more recently has opened offices in Auckland, Christchurch and Denver, Colorado in the US.
Stellar managing director Shaun McCambridge said the company had further expansion plans and Savage would bring "the growth experience we need in the next stage of our development".
Savage joins Sydney entrepreneur Allan Brackin, who is the chair of IT companies Emagine and Runge Limited and sits on a range of other executive and advisory boards.
ShortList – 25/2/13
How to fire your clients: Savage
Recruiters thinking of cutting loose a bad client need to be upfront about their reasons, and conduct the process in a way that leaves the door open, says industry veteran Greg Savage.
Savage argued in a recent blog post that recruiters needed to "fire" clients who weren't worth doing business with – whether because they provided "sketchy" job specifications; pulled assignments halfway through; used multiple agencies in competition; always haggled on fees; or simply cared about price only, with no interest in service or quality.
"They take your focus off where it should be – your targeted clients and prospects who can offer you long-term, sustainable, profitable business," he said.
Savage said this week that firing a client would ideally be done in person, and the tone would be firm but polite.
The recruiter should be "crystal clear" that they still wanted the client's business, but only on certain terms – and that the "status quo" was preventing them from doing their job effectively.
"Explain in detail your process and your quality commitments and everything else that makes up your service, and what you need to do to get the results the client wants… Then shift the conversation to what the client needs to do to make the whole partnership work for his/her benefit."
He said in his experience, about one in five fired clients ended up coming back to the relationship.
Contact Greg Savage